Moments to yourself are like Pokemon: gotta catch 'em all

The activities that sound like a fun getaway break change drastically after you have a family, no? Here are some ways witchy moms have snuck in some selfish, luxurious, decadent time to themselves:

"Laundry. I put on Housewives and fold in our bedroom. I usually stay up there as long as possible until I get found out."

"I have learned that when I put on music or an audiobook in the playroom, my daughter will play by herself at least twice as long than if the place is quiet. Yes, I devote a large amount of energy to escaping my daughter."
"When I belonged to Lifetime Fitness, I would sometimes stick a kid or two in childcare and then sit on the sofa in the ladies room to watch The View in peace. Also, ditching my family who thought I was shoveling snow to go to a bar is up there."
"I say yes to something that normally I would say no to. Like, 'Yes! Definitely you can take 20 Tupperware containers of water out in the backyard to make a series of swimming pools for Barbies. Knock yourself out! And then I just close the screen door and watch a Bravo show."
"I had to do a 15 minute run to Walgreens to pickup a prescription the other day. I drove there, sat in my car listening to a podcast for 30 min, got the prescription and drove home, blaming the pharmacist and long lines."

"Dropping the toddler off at the gym's babysitting play area, going straight to the 'yoga room' with all my street clothes still on, putting earplugs in, and napping in 'savasana' for 45 min.

"Last night I *jumped* at our neighbor's request to go over and 'dog sit' their elderly/confused dog for three hours. Sorry husband! You're on homework/bedtime and lunch-packing because I'm such a good neighbor. Right, that's it."

"If I'm home alone with my 15-month-old, I absolutely play podcasts (for me, not kid podcasts) and thereby essentially ignore her for a little bit. Can't do this with the 5 year old, but the baby can't talk enough to object yet and actually seems to like the random grown up voices? Especially if she's in a clingy mood, I'm like, okay, you can suction cup to me but I'm still gonna be listening to West Wing Weekly."

"Saying yes to volunteering at school shit that starts at 7 PM. Sorry I can't do bedtime tonight, I'm busy building my community."

"Always scheduling my haircuts on a Thursday at 7 pm because I can work late, go right there, and then meet a friend after. If I get my haircut on a Saturday, I only get an hour off."

"I went to the Y the other day, which was only a 20 minute run. I stopped off at TJ Maxx on the way there and Target with a Starbucks latte in hand, on the way back. My trip to the 'gym' was four hours.

"Pretend to take half-hour man shits when really I'm done in three minutes."

"I did a comprehensive long-range plan for this winter: got my boys annual ski rentals at a place that gives a season ski pass to my husband's favorite ski resort. Periodically, I use booking.com to get them a cheap hotel overnight there. I stay home with my daughter because she's too young to ski. She takes naps, and so I get my own time alone in my house during nap time for a few weekends."

"Volunteered to go pick up dinner even though it would have been just as easy to get it delivered because two kids have been sick back to back for two weeks. Plus, work has been mad crazy, and we are in the middle of an 'Are we here for the long run or nah? We should review our budget and think about buying a house' kind of argument so WINE while waiting for the food to be ready."

"We kept our 5-year-old on the same 'nap' schedule as her baby sister until literally a month ago. She stopped napping when she was 2, but has gone in her room to play by herself for 2 hours every weekend afternoon that we're home since then. She FINALLY called our bluff: 'You know, other kids don't have to stay in their rooms for such a long time...' and I made a deal with her that she no longer has to be in her room unless she speaks to me during that time. So far it's working. (And she even voluntarily still goes to her room most afternoons since that's where her good markers are kept...)"

"Breastfeeding and pumping. A real benefit to having an unexpected third kid—no one else can do it, and when nature (ie newborn or full boobs) calls, I must answer. And as everyone knows, you need to be in a quiet, kid-free place with a book or TV show to successfully nurse/pump…"

"Divorcing my first husband."
---
End credits
I hope you enjoyed today's issue of Evil Witches, a newsletter for people who happen to be mothers (and also non-mothers who get what .) Please pass it along if you know someone who'd like this sort of thing a few times a week. If Evil Witches has made you smile or nod or or forward or share or given you a good idea, please consider becoming a paying subscriber to support the work:
If you're interested in writing a guest post, have a suggested topic or have any general questions or you can reply right to this newsletter. You can also follow us on Instagram and have witchy conversations on Twitter too:
This issue is brought to you by this footage from my house of some private time going awry: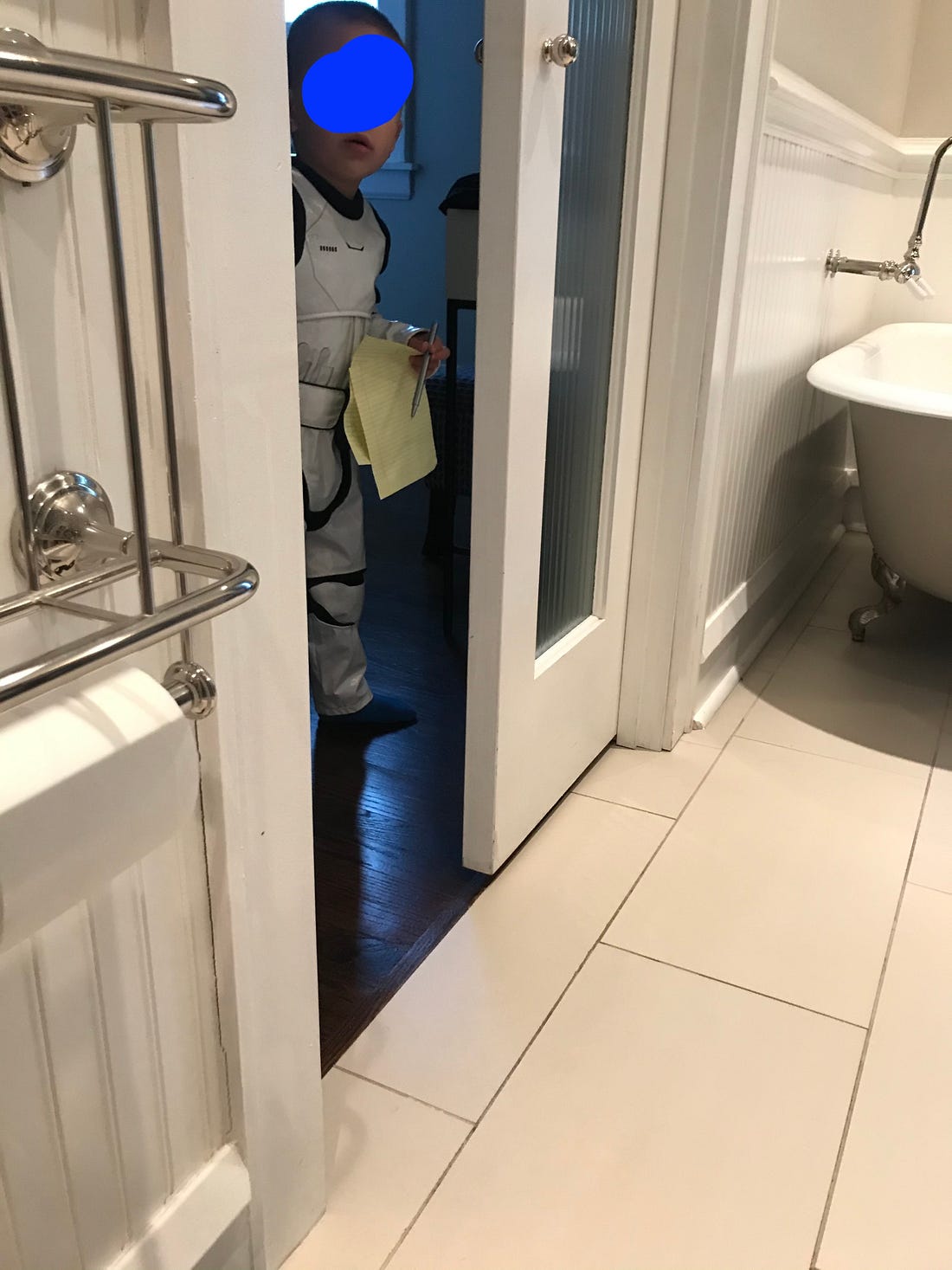 The Dark Side strikes again.
---
One witchy thing