E.W. #13: Theranos, but for breast milk?
Here is a bad press release I got last week. I am going to redact the name of the company so as not to encourage them:
Working on anything for Mother's Day? New mom essentials? A really interesting mompreneur piece?

Wanted to introduce you to ::Bad Idea Company::, the first and only way women can see what's in their breastmilk.

Why is it helpful for mothers to see the nutritional contest (sic) of their breastmilk?

Learning about a mother's milk can decrease postpartum depression/anxiety for a few reasons: a mother can see exactly how many calories her baby is getting, learn which supplements she actually needs and which food she should focus on. Having actionable items is empowering.

The entire premise of this company is a farce, not to put too fine a point on it. Happy Mother's Day, breastfeeding/postpartum mom: the ultimate gift to you is an unnecessary test to evaluate your quality as a feeding machine. I didn't breastfeed but still, the following things did not help me when I was postpartum and depressed:
Being given tasks.

Being given terrifying information.

Being given any additional information.

Being judged.

Being told I have control over things I don't.

Being told what foods I should be focusing on.

More shit in the house to deal with.
Too much information can be a killer for new parents. Life is much simpler once you are the type of veteran parent who doesn't need a monitor to know if your kid goofing around instead of sleeping, once you have discovered the skill of telling a fever just by touch (or even just a look). But naturally this whole new system of evaluating the juices in your body is "essential" (FYI the high end kit from this company costs $350).
This business model is based on new mothers feeling terribly about themselves: taking the test, being told how they can improve, re-configuring their diets, taking the test again, and so on. What's great is that they are going to feel so terrible and that both the mother and the baby will associate feeding with stress and judgment. A nutritional contest indeed. Cha ching!
My favorite part is the message that "actionable items" are "empowering" for new moms. Baby, my whole life is action items. I see probably two dozen action items on the floor here as I type and upstairs I hear another action item who got up earlier than he was supposed to. What was I doing wrong this whole time that all this power made me feel overwhelmed, ground down, bored, resentful, and irritated? Probably the answer is that I wasn't enrolled in a nutritional contest to make me realize how much better I could have been doing.
Your favorite #mompreneur (no, never),
Claire
---
Y R Spouses
• "This is a perfectly fine way to leave a stick of butter."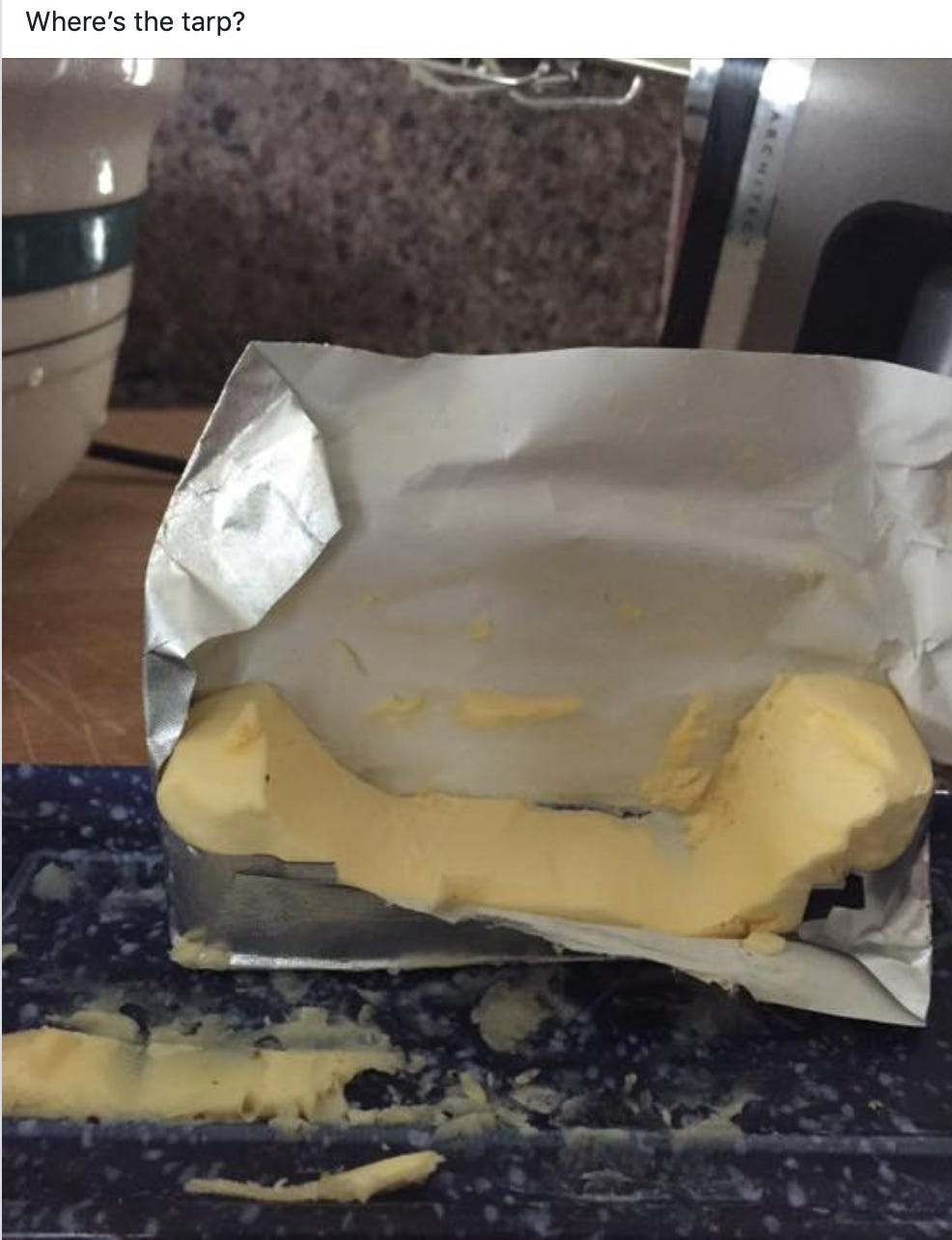 ---
Food
•
Delicious road tested salads witches are virtuously maxing on during this tender time between winter #2.5 and summer.
Four that are Smitten Kitchen:
Kale Salad with Cherries and Pecans Note: they sell Tuscan bagged kale at Trader Joe's and the organic section of Albertson's/Jewel: no need to trim it, promise. I made it with craisins instead of cherries.
Avocado salad with carrot-ginger dressing: "It's crunchy, fresh, cool, creamy, and zingy. And it's suuuuuper easy to make."
Carrot salad with tahini and crisped chickpeas: Date, feta and red cabbage salad: Throw a can of chickpeas in it to make it more of a meal—they go with the flavors, promise.
And two are not:
Roasted Beet and Wheat Berry Salad. Or, try this TJ shortcut version, with a scoop of pesto if you have some around.

And witch slaw:

---
Kids
• How dare you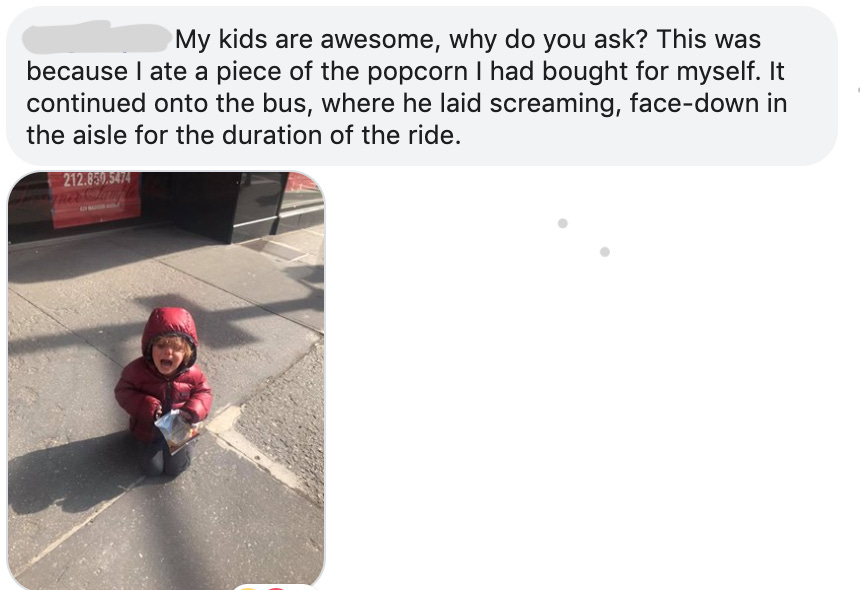 ---
Safety
• The time I broke my kid
Because everybody has that story and the only good thing to come from that story is that it has the power to make somebody else feel better. Me? Once I kicked my kid in the head and thought I had broken his brainstem (ER trip). Then when his brother had been home for two days I bonked him on the head with a closet door. (No ER trip because second kid.)
My husband once accidentally kicked our older daughter in the face, twice, once almost knocking her front teeth out. As a toddler my second daughter managed to fall down a flight of wood stairs FOUR different times, the first time because I did a bad job latching the gate. I took her to the hospital/doctor exactly zero times.

My friend and I were babysitting and we let my twins crawl into the laundry basket and stand up and play and it was hilarious and we were taking photos and then BOOM they both leaned on one side and tipped it over and face-planted on the hard kitchen floor and started screaming. I had to explain some forehead bruises to my husband. Could have been way worse.

There was that time when I thought to myself, "Let the baby crawl on the campus green. What can happen? I can still see her." And then I watched as she sat up and put something in her mouth. I RACED to her and found a mushroom stem in her hand. I called poison control and then speed-walked with the stroller to Walgreens for ipecac because that was faster than going home for the care. On the way home, I had to stop every so often so that she could puke. This was seriously the first moment as a parent when I thought to myself, "Relax. You don't have to hover." HA!

While at the pediatrician for my younger son as a baby, my 3 year old lunatic was awful and I picked him up and he threw himself sideways and smacked his own head on the doorframe. Had to set aside sick baby we came for and 3 year old was on concussion watch.  And this happened TWICE. The second time the 3 year old flipped himself in the entire stroller on his head while the doc examined baby brother and was again on concussion watch.

I smacked my son in the head with an iPad, then with my knees while trying to retrieve the iPad. Screen time AND head injury for the win. (He was fine.)
---
End credits
Thanks for reading Evil Witches, a newsletter, a community, an experiment, a thing I hope you read for a laugh and a moment of recognition with zero action items. You can follow us and talk to us here. If you're interested in possibly submitting something or have any general questions just shoot us an email or Tweet. If you know someone who'd like this sort of thing in their inbox, forward it their way and encourage them to subscribe.
This issue is dedicated to the future inventor of a device that entices kids to take part in lengthy, meaningful and pleasant Facetime discussions with their grandparents.
---
One witchy thing